Pain and Glory
A Movie by Pedro Almovodar
Bruce H. Sklarew, Film Editor
Bruce H. Sklarew, M.D., an associate editor and co-founder of the award-winning Projections: The Journal for Movies and Mind, organizes the film programs at meetings of the American Psychoanalytic Association and has co-edited three books on psychoanalysis and film.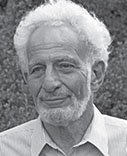 The 70-year-old Pedro Almovodar masterfully weaves a complex series of flashbacks and flashbacks-within-flash-backs in his 2019 autobiographical "Pain and Glory" (2019). Although the structure of the film is seemingly disjointed, it integrates as levels of reveries resembling a transitional space for the absorbed viewer. Coasting on waves of memory, it acknowledges the mind's inability to recall the past as a linear progression of events. His adult character, Salvador, is portrayed by Antonio Banderas and his childhood through flashbacks. He is overwhelmed by unrelenting back pain, migraines, dysphagia, and severe depression before his very rare Forestier's disease (diffuse idiopathic skeletal hyperostosis) is diagnosed. Almovodar inserts a series of vivid animations to prominently illustrate the anatomy of his illness, emphasizing his rotating spinal column, the site of his disease that limits his ability to swallow and causes severe back pain. His character says he knows each vertebra.
Both physically and emotionally he endures an isolated and pervasively inactive and depressed existence after a productive career as a screenwriter and a director. Still, he evidences unexpected resiliency through reconnecting with previous vital relationships. Rather than the more pretentious "Pain and Glory," the film's title could be "Pain, Restitution and Creativity" since he seeks creative endeavors rather than glory. He rediscovers the alienated Alberto, an actor in his film 32 years ago; a former male lover in a joyously warm encounter; a "student" via a found childhood drawing; and his mother in painfully honest engagement before her death. He allows a woman friend to accompany him through his recovery and to be a caring presence. He reciprocates by giving her his mother's jewel box as though she was a replacement mother. The male physician also helps to restore Almovodar by arranging for his diagnostic CAT scan and encouraging him in heroin withdrawal. In a scene of relinquishment as a prelude to resuming writing, he throws his heroin into the toilet.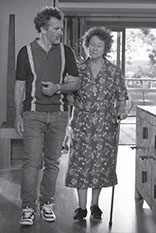 The film is sandwiched between an idyllic childhood memory with his mother (Penelope Cruz) and other women singing as they wash clothes in a river (with a soap fish) and dry them on bushes, and the ending in which he resumes a closeness with his caring childhood mother. Here the sudden presence of a boom reveals that the scene is a film set as he is rejuvenated and finished his adeptly described new film "The First Desire," a version of a film-within-a-film like a play-within-a-play. Desire could refer to his desire for his mother as well as an awakening of his homosexual current with the nude man.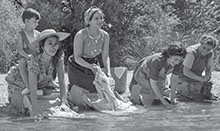 He yearns for his nurturing childhood mother who used limited resources to help arrange for a seminary education for this extremely bright and eager to learn 9-year-old. Her sewing with a wooden egg to darn a hole in his sock—later given him by his dying mother—and as a means to earn money, serves as a metaphor for her maternal caring. He has a seemingly absent and uncaring father. The portrayal of mothers is markedly split in that it is revealed that a childhood drawing sent to his village home with a moving letter on the back of the frame from his former student was never forwarded to him by his mother in an attempt to avoid and deny his homosexual tendencies. Instead, by coincidence, he finds it in a show of unidentified artists 50 years later. In a reversal of roles, Salvador as a boy becomes a teacher/father and therefore by identification becomes a father for himself.
A "cinematic overture" (Insdorf, 2017) draws the viewer into the film, setting the tone to become aware of the point of the story as well as who is telling the story. This somber overture is presented showing his surgically scarred back, his eyes closed, and Almovodar floating underwater in a swimming pool with sideways arms resembling a fetus. This scene comes before and after the idyllic clothes washing scene. It presages the transformation from his dismal depressive submergence, a symbolic baptism of restoration. In standing he emerges from the water relieved of most of his stultifying pain.
Almodovar initiates the film with establishment shots of colorful designs floating like waves. He continues the water theme when his handsome young adult male student disrobes and washes himself in a lengthy scene with sideways views of his penis as the 9-year-old Salvador watches him in a seeming prelude to a seduction. Instead the boy faints in a Stendahl-like syndrome. The illiterate young man had been working, placing tile in the house and whitewashing, in exchange for the precocious boy's teaching him reading, writing, and arithmetic. The girlfriend of the young man complained that instead of learning, he spent all of his spare time drawing. Previous to the washing scene the young man begins the drawing. It is said that "writing is like drawing with letters." Almodovar thus evokes the idea of sublimation in drawing, film-making, and Alberto's performance in a monologue about heroin addiction.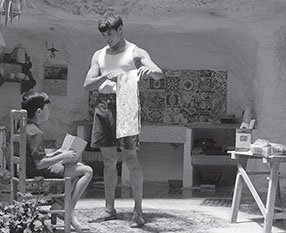 This magnificently crafted film evokes unusual empathy and warmth in transformation from joyous child through abject illness and depression to rejuvenation.
New Candidate Members
National Meeting 2020
Grand Hyatt, New York
New Candidate Members
Lyndal Diane Andrews, A.M., M.M., LCSW
Natalia Boucher, M.F.T.
Catherine Boutwell, Ph.D.
Sifan Chen Cerelia, M.S.
Elisa Kuo-Min Cheng, M.D.
Anne Clark-Raymond, M.D.
Laura Coleman, LMFT
April Crofut, M.D.
Brittan Dunn, LMSW
Tanya Dutta, M.D.
Fredrick Edo-Okuonghae, LMFT, Psy.D.
Ahmed Fayed, M.D.
Jared Finkell, M.D.
Seyed Siavash Mir Saeid Ghazi, M.D.
James C. Grabowski, LCPC
Christopher Green, M.D.
Ariela D. Green, M.D.
Sarah Jane Grossbard, M.D.
Neha Gupta, M.D.
Bernadine Han, M.D., M.S.
Xuena He, M.A.
Vitaliy Ivanyshyn
Melissa Jenereski, M.S.W.
Eun Hee Joh, M.D.
Jaclyn Joyce, D.O.
Rachna M. Kenia, M.D.
Adam Joaquim Leite, Ph.D.
Michael F. Makal, Ph.D
Akos Mersich, M.D., Ph.D.
Tina Thu-Ha Nguyen, M.D.
Max Nisenbaum, Ph.D.
Terri Onstad, LPC
Lili Qu, B.A.
Hubertus Raben, M.A., L.P.
Jyoti M. Rao, M.F.T.
Elizabeth Rawson, M.D.
Susana Rodriguez-Perea, M.S.
Tuua Ruutiainen, M.D.
Teri P. Saveanu, M.D.
Samantha Sculnick, LCSW
Xiao Shao, MHC
Alexander Sheppe, M.D.
Daniel Sheridan, Ph.D.
Margaret Lenora Shirley, M.D., M.S.
Darlene Sosnick, M.A.
Zachariah Stutman, Psy.D.
Gretchen Suarez, LMHC
Elise Suna, LMFT
Rebecca Katia Alice Suschitzsky, LICSW
Travis Joseph Tanner, Ph.D.
Luis Vallejo, M.D.
Derick Emilio Vergne, M.D.
Ruijuan Wang, B.A.
Hannah Weiss, LCPC
Haiyan Wu, M.A.


New Academic Associate Candidate Members
Mohamed Abdelsalam, LLMSW
Diana Antia, M.D.
Karen Dainer-Best, Ph.D.
Yoo-Kyung Koh, M.D.
Suzanne Laba, Ph.D.
Melinda Robb, Ph.D., M.S.W.