Contemporary Psychoanalytic Perspectives in Gender Diversity and Sexualities
Marco Posadas
Marco Posadas, MSW, RSW, FIPA, Practices psychotherapy, psychoanalysis, and clinical supervision in Toronto; chair of Sexual & Gender Diversity Studies Committee, International Psychoanalytical Association.
marcoposadas@yahoo.com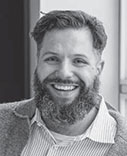 The Sexual and Gender Diversity Studies Committee (S&GDSC) of the International Psychoanalytical Association (IPA) comprises 16 members and consultants that represent three regions: North America (which includes China, Korea, and Japan), Europe (which includes India, Australia, and South Africa), and Latin America (which includes Brazil). Part of our mandate is the construction of spaces for knowledge creation, knowledge transmission, and exchange of issues pertaining to the intersection of sexual and gender diversity and psychoanalysis. Our goal is for the IPA to open the dialogue within our organization. We are mandated to help the IPA catch up with what has been happening in the last 60 years in academic spaces outside our psychoanalytic institutions, and also contribute new ideas.
Some examples of this work at an institutional committee level is the Committee on Women and Psychoanalysis (COWAP), and the creation of working parties to explore psychoanalytic processes within a group model. The S&GDSC recognized the importance of working between psychoanalysts in a group format as the most effective way for us to embark on this journey. We prioritized creating spaces that could hold complex conversations about gender and sexual diversities among psychoanalysts, psychoanalysts in training, and clinicians interested in psychoanalysis that reflect the pluralism of thought within the IPA (over 14,000 members and 6000 candidates across the world). We wanted people to be able to talk openly about their thoughts and concerns with these topics, regardless of their theoretical inclinations or their proficiency working with sexually and gender diverse patients. This is not an easy task, and it took our organization over 100 years for the creation of the S&GDSC. Another important factor to highlight was the invaluable support of the previous IPA administration led by Stefano Bolognini, and now Virginia Ungar, the first Latin American Jewish woman president of the IPA.
We recognized that within our membership we have a complex scenario: On the one hand, we have psychoanalysts who are at the forefront of knowledge production in this area, like Avgi Saketopoulou, Adrienne Harris, Leticia Glocer Fiorini, Dana Amir, Domenico Di Ceglie, and Sergio Lewkowicz among many others. On the other hand, we have members who have never encountered sexual and gender diversity issues in their clinical practice, and thus may hold pathologizing beliefs about these groups of patients. One of our priorities while organizing our first Study Day in Gender and Diversity and Psychoanalysis was to make sure our audience and panelists felt safe enough to engage in a critical approach to thinking and questioning our knowledge.
With this in mind, we held the first IPA Study Day in Gender Diversity and Psychoanalysis with the title "Contemporary Psychoanalytic Perspectives in Gender Diversity and Sexualities" on September 27 and 28, 2019, in Brussels. This was also the first IPA scientific event at the House of the European Psychoanalytic Federation in Brussels. This was the inaugural event of the S&GDSC and a pilot project to foster spaces for psychoanalytic, scientific, and clinical discussions. We benefited from its location and the possibilities to reach out not only to the European region, but attract people from all IPA regions. Moreover, the European region was the site of previous work addressing issues of sexual and gender diversity. For instance, in 2013, the European Psychoanalytic Federation (EPF) established a working group in homosexuality to study what Freud had said about homosexuality (Flanders et al, 2016). Following the presentation of their results in Stockholm in 2015, the EPF organized a symposium in homosexuality in 2017 to discuss how attitudes toward homosexuality may or may not have changed in psychoanalytic institutes in Europe. One of the most important outcomes of that symposium was that it initiated a process of reflection and discussion about how homophobic attitudes had been transmitted in institutionalized psychoanalysis over decades.
With support from the IPA, the EPF, and COWAP we coordinated four main activities. As with every IPA activity, an international and interregional perspective was considered in each of the four activities: an opening theoretical panel, two documentaries with small discussion groups facilitated by two members; and on the second day a closing clinical panel.
Theoretical Panel
The theoretical panel set the stage of our study day. Presenting different theoretical ideas, supported by the current international medical consensus that gender diverse identities are not a form of pathology, helped the audience feel comfortable to explore their assumptions and beliefs about working with gender and sexually diverse patients. As overall chair of the S&GDSC, I (Canada) chaired the opening panel with Paula Ellman (USA), overall chair of COWAP. The panelists included: Dana Amir (Israel) who proposed shifting our thinking and theorizing about gender to a rhizomatic structure allowing for more complexity and nuance in "Gender in Movement: The Rhizomatic Versus the Oedipal"; Adrienne Harris (USA) who emphasized the suffering imbedded in expression in "Gender Fluid and Fixed: Gender and Suffering, Gender and Transformation"; and Leticia Glocer Fiorini (Argentina) exploring the role of the Oedipus complex and its impact on conceptualizations of gender and sexuality in "The Oedipus Complex in the Light of Changing Sexuality and Gender." This panel emphasized psychoanalytic theoretical constructs that support our thinking in the process of understanding gender beyond a pre-established gender binary artificially linked to the genitals human beings present at birth.
Documentaries and Small Discussion Groups: Visual Content as Clinical Material
Presenting clinical material has always been associated with psychoanalytic learning activities. We wanted to be respectful to trans and gender creative patients and acknowledge that within institutionalized psychoanalysis they have often been misrepresented and over-pathologized. We decided to use publically accessible visual material that could help us ground the theoretical panel to visual material, and to prepare the audience for the next day's clinical panel. The documentaries were followed by four small discussion groups where participants had the opportunity to discuss their reactions to the material.
We chose two documentaries that provided contrasting narratives depicting trans and gender creative people, and the activity was chaired by Eva Reichlt (Germany). One of the documentaries: "La Candidata" ("The Contestant") by Emil Guevara Malavé and Ronald Rivas Casallas (Venezuela, 2017), presented four different people of color in their journey toward femininity competing in a beauty pageant in Venezuela called "Miss Gay." This documentary not only depicted trans, queer, and other gender creative people in a common Latin American stereotype, a gay beauty pageant, but it emphasized the violence trans and gender creative people endure and have to survive if they choose to live in public spaces. The second video was a video installation called "Resisterectomy" by Canadian film director Chase Joyne. This video installation presented two different narratives of white people accessing the health care system seeking treatment for cancer, depicting the challenges the health care system imposes on gender creative people.
The documentaries provided a wide array of narratives to challenge our common psychoanalytic misconception of the one monolithic trans/gender creative body/existence. There are diverse trans paths, and more than two paths to express gender difference. The small discussion groups coordinated by Silvia Acosta (Argentina) served as a container for the audience to process together the content of these documentaries, and the feedback we received was overwhelmingly positive.
Clinical Panel
The final day opened with a clinical panel chaired by Jorge Camara (Portugal) that brought together three outstanding clinicians to provide clinical examples that helped us put into practice the theoretical panel and the documentaries and the small discussion groups. Domenico Di Ceglie (Italy/UK) presented "Shapes of Gender Identity: Three Stories with an Impact," which showcased his decades of clinical experience working with trans youth as founder and former director of the Gender Identity Development Service (GIDS) at the Tavistock and Portman NHS Foundation Trust in London. Avgi Saketopoulou (USA/Greece) hit a home run with her paper "Gender, Binding, and the Sexual: On the Analyst's Countertransferential Agitation." Saketopoulou's examples of her clinical work demonstrated how analysts can react internally to fixed beliefs that obstruct our listening and impact the clinical formulations that inform our work. Finally, Sergio Lewkowicz (Brazil) closed the panel with "The Many Colors of the Rainbow: Depathologizing Sexual Diversity." Lewkowicz provided an accurate snapshot of the current socio-political situation in Brazil and the impact violence has on gender diverse communities. His paper helped integrate the work of our panelists, highlighting psychoanalysis and psychoanalytic treatment as tools to decrease violence toward trans and other gender creative people.
We closed the study day with a lunch after the clinical panel to provide our audience, panelists, EPF staff, and organizers with the opportunity to socialize and get to know each other and foster a sense of community for our members around the world. The lunch organized by the EPF had fantastic food and wine, helping the over 60 participants from 15 different countries feel closer.
Next Steps
After our study day in Brussels, the Latin American subcommittee of the Sexual and Gender Diversity Studies Committee organized the first Latin American Dialogue on Sexual and Gender Diversity and Psychoanalysis called "Polimorfismos" in Buenos Aires on November 1 and 2, 2019. With over 200 participants, this was an interdisciplinary event held in two venues that brought together for the first time in Buenos Aires two psychoanalytic institutions: The Argentine Psychoanalytical Association (APA) and the Psychoanalytical Association of Buenos Aires (APdeBa in Spanish). This event was organized by Leticia Glocer Fiorini (Co-chair for Latin America), Jean Mark Tauszik, and Silvia Acosta (committee members for Latin America), who are currently in the process of editing a book with some of the works presented in this event.
Furthermore, we are currently planning two activities at the next IPA international congress in Vancouver in 2021. One is the First Tiresias Award, which will be a cash prize for a paper that contributes to the understanding of the intersection of psychoanalysis and sexual and gender diversity. Second, we are piloting a working party for the Vancouver 2021 pre-congress focusing on issues of gender diversity in the clinical encounter. We are also planning the Second Gender Diversity and Psychoanalysis Study Day in North America during the fall of 2021. Hope you can join us!