EBT and Parent Work
Jack Novick and Kerry Kelly Novick
Jack Novick, Child, adolescent and adult psychoanalyst, training and supervising analyst of the IPA, president of the Association For Child Psychoanalysis, author of five books and numerous articles.
Kerry Kelly Novick, Child, adolescent and adult Psychoanalyst, training and supervising analyst of the IPA, founder of Allen Creek Preschool, author of numerous articles and five books.
kerrynovick@gmail.com (email for both Jack and Kerry)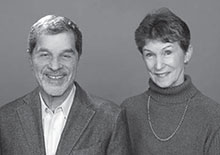 Despite the excellent efforts of Jonathan Shedler and others, psychoanalysis still suffers badly from the accusation that it has no evidentiary base. People also often forget how many centers, particularly from the middle of the 20th century, gathered vast quantities of data to study many different aspects of psychoanalysis, including outcome. At the Hampstead Clinic, founded by Anna Freud, there were multiple NIMH-funded research groups on a wide range of topics, which produced papers, books, reports, and generated a number of methodologies.
When we were students at Hampstead, we undertook a study of bad outcomes in child and adolescent analysis. We were able to do this because of the Hampstead Psychoanalytic Index, generated by Dorothy Burlingham and Anna Freud and led by Joseph Sandler. This was a massive data-gathering effort that collected detailed clinical material from hundreds of cases in a standardized format, allowing for many different kinds of study. We examined the then-existing pool of 111 indexed cases, from which we drew the group of those that had very bad outcomes—suicide, suicide attempts, hospitalization, serious breakdown, institutionalization, and so forth.
Material from this sample led to our focus on beating fantasies and the start of a lifelong study of sadomasochism, as those cases all had fixed beating fantasies, which we described in the first and subsequent reports, both published and presented at the IPA at the Vienna Congress of 1971.
But there were other commonalities we did not emphasize at the time. In particular, we found in this initial sample that the fathers were weak or absent, and there was an intense pathological bond between the patients and their mothers, and we mentioned this as an aspect that warranted further study. It was also the case that no concurrent parent work was done by the analysts of these particular patients, but we did not then make much of this fact.
At the same time, we were, unusually, students who did indeed work with the parents of our own analytic cases, as well as the psychotherapy cases and parent guidance that were a standard part of the training, since parent work by the same clinician was not generally done at the time. We have 25-, 35-, and over 50-year follow-up on those cases and it is positive. That experience got us started on the idea there was nothing bad or esoteric about concurrent work with parents. Certainly, Anna Freud had no objections and supported our efforts.
We carried this positive experience of concurrent parent work with us in our move to Michigan, where we were part of starting a new child psychoanalysis training program in the 1980s. There the American tradition of separating parent work from the child analysis was the norm. We and our colleagues and students soon found, however, that there was pervasive difficulty in case finding, case retention, and successful outcomes. Looking hard together at this trouble, we all concluded the relevant issue was lack of parent work. We revised our integrated curriculum to include explicit emphasis on concurrent parent work in supervision and technical seminars.
Acting as our own controls, faculty and candidates found distinct improvement in bringing patients into treatment, maintaining the treatments, and coming to a satisfactory ending when we compared the cases with and without concurrent parent work. This dimension became a notable feature of the Michigan training and has been adopted to some extent in many other places. Our publications describing a programmatic dynamic model of parent work for children and adolescents have influenced training and practice nationally and internationally, visible in that people seem increasingly comfortable in including descriptions of parent work in case reports.
This year, in an effort to collect current data on the efficacy of concurrent parent work, we, along with Denia and Tom Barrett, edited a Parent Work Casebook. Forty child and adolescent psychoanalysts from around the world contributed clinical vignettes and commentaries, offering a broad sample of work.
In this volume, despite the serious disturbances in most of the patients and their parents, only one of the cases ended early; that one case was an adolescent who had to be hospitalized. While some terminated sooner than the analyst might have wished, those remaining 14 all stayed in treatment for substantial periods and they made significant gains. If one of the reasons to include parent work is the pragmatic support of the child's individual treatment, the data from this new volume confirms the earlier conclusion that working with parents does make therapy work.
In spite of this data-driven conclusion established over the past 25 years, analysts still often avoid or only pay lip service to the need for concurrent parent work. What is going on? We think one factor is pervasive institutional and internalized childism that affects attitudes to child analysis in general and parent work as well, as cited by Elisabeth Young-Bruehl. Other sources of resistance at different levels include the hassle factor (time, money, management), transferences and countertransferences to parents, judgment of parents, comparison of oneself to parents and consequent defenses, among many others.
One of the most important findings was the tremendous internal pressure felt by analysts (at all levels of experience), often in empathy or identification with the child, to jump in with immediate efforts to alleviate distress, to rescue the child, rather than tolerate the pain and effort to take long enough to establish a sturdy collaborative therapeutic alliance with parents.
One of the most important findings was the tremendous internal pressure felt by analysts (at all levels of experience)…to jump in with immediate efforts to alleviate distress…rather than tolerate the pain and effort to…establish a sturdy collaborative therapeutic alliance with parents.
This takes us back full circle to our first study of the data from the Hampstead Index. The fixed beating fantasy, which Freud had called "the essence of masochism," is a mental construction based on severe intergenerational pathology. Looking back at our original puzzlement over the bad outcomes of patients who had been through many years of psychoanalysis, we now think the exclusive focus on the children's intrapsychic functioning was necessary, but not sufficient, to effect significant permanent change. All the children remained locked in a sadomasochistic bond with their mothers.
We now conclude the various factors we discerned in that original sample were dynamically related. Although we started studying sadomasochism and concurrent parent work separately, we suggest that these separate domains should be connected theoretically and technically. We do not think sadomasochistic closed-system functioning can be set aside, or open-system functioning enhanced and nurtured, unless we also address the dynamic interdigitations of intergenerational transmission of strengths and pathology, in the context of the significant relationships for each child or adolescent and their parents in the family and community. With children, adolescents, and emerging adults, the technique is concurrent work with the actual parents.
Our experience shows these ideas also apply to work with individual adults. Concurrent parent work is very seldom done with adult patients, but we have found the conclusions we outline above have proven relevant in other ways. With adults, it is important for the analyst to work not only with the emergence of transference and countertransference manifestations of the patient's childhood relationships with parents, but also to keep in mind the actuality of the patient as child, adolescent, and parent in their own right, with all the complexity of their closed- and open-system interactions with their parents. Significant issues in patterns of relating do not always emerge fully and clearly in the transference, but can be sequestered in a parenting or partner relationship. Analysts of adults can usefully be more mindful of the internal and internalized parents, the patients' current relationships with their parents and significant others, and their functioning as actual or psychological parents, in other words, "parent work" is not restricted to actual parents of young patients.
From the Issues in Child and Adolescent Psychoanalysis Editor
Kerry Kelly Novick and Jack Novick provide us with an outstanding precis of the value of working with parents simultaneous with the psychotherapeutic treatment of children and adolescents. They elegantly connect their early work with Anna Freud with the eventual maturation of their psychotherapeutic and psychoanalytic work. They began their careers with a systematic evaluation of failed cases, which led them to their clinical finding of the ubiquity of beating fantasies, the presence of weak or even absent fathers, and the persistent pathological entanglement of children with their mothers.
As a result of these empirical findings, they promoted the importance of concurrent therapeutic work with parents of children or adolescents in treatment. In addition, they stress the importance, when working with adults, that analysts be mindful of "the patient's current relationships with their parents and significant others, and their functioning as actual or psychological parents, in other words, "parent work" is not restricted to actual parents of young patients."
Coincidentally in a paper about school shooters Timothy Rice and I (not knowing about the Novick's work connecting beating fantasies with absent fathers and poor therapeutic outcome) noted the role of absent fathers. We discussed the hypothesis that "mass killers have had a dysfunctional adolescence, which consists of an entangled relationship with their mothers: either feeling engulfed or feeling sexually overstimulated and an absent father, who does not help them move away from the mother." If this hypothesis bears fruit, it could lead to public health changes: When one treats or observes a troubled teen, one has to promote a relationship with a father or father surrogate to help the teen further his psychological development.
The Novick's work illustrates the value of systematic empirical observation to promote the development of clinical theories and improvement in clinical technique.
—Leon Hoffman