Come to Chicago for APsaA's Annual Meeting
June 22-24
Christine C. Kieffer
Christine C. Kieffer, Ph.D., ABPP, is chair of the Program Committee.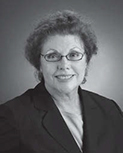 We are anticipating another innovative and stimulating meeting in Chicago this year, from June 22-24. Continuing our "new tradition," we are offering large panels that highlight some of the sociocultural issues of our day from a multiplicity of psychoanalytic views. The meeting will take place at the Palmer House hotel in Chicago's Loop, a stone's throw from the Art Institute of Chicago and close to many other topflight artistic and entertainment venues.
The meeting will open with an exploration of power dynamics of the mob and the group or "Why Do Large Groups Often Act So Horribly?" Designated leaders are as often a symptom as a cause of hate and violence. This thought-provoking panel will include: Carol Gilligan, Brent Decker, Robert Galatzer-Levy, and me. It will be followed by an extended period of break-out sessions, and then interaction with the speakers—a section to be supervised by Carlos Almeida.
A second panel taking place on Saturday will focus upon "Free Speech, Hate Speech and Neutrality: In and Out of the Consulting Room." Chaired by Don Moss, participants include Susan Vaughan, Seth Aronson, Aisha Abbasi, Lara Sheehi, Mayumi Pierce and Karim Dajani. Each participant will give a five-minute presentation. A town hall meeting open to audience participation will follow the presentations.
This June's Meet-the-Author program will focus upon the work of Steven Stern whose recent book, examines "needed relationships and psychoanalytic healing." Arnold Richards will discuss his three-volume series of selected papers focusing upon critical assessments of psychoanalytic ideas and practice. As always, the University Forum, under the stewardship of Stanley Coen, will bring together scholars from academe and psychoanalysis for an examination of Henry James's novel, The Golden Bowl. Panelists will include: William Veeder, Maud Ellmann, Michael Wood, Susan Griffin and Lucy LaFarge. Hilary Beattie will moderate this exciting event.
The meeting will also highlight an array of Discussion Groups exploring clinical and sociocultural issues of the day as well as topics on the arts.
Another long-standing favorite has been the Two-Day Clinical Workshop (2DCW). This year, Glen Gabbard will be the featured discussant for Irene Cairo's popular 2DCW—just one of many compelling workshops. The clinical plenary, chaired by Nancy Kulish, will feature Sidney Phillips, along with several discussants, not yet announced when TAP went to press.
There will be no Ticho lecture this year, but I am proud to announce that another program will stand in its place (just for June 2018)—the newly published Psychoanalyst Assistance Casebook, for which Audrey Kavka is the editor-in-chief. This is a casebook designed to offer perspectives on impairment in psychoanalytic capacity, along with guidance on intervening with vulnerable colleagues. Kavka will be joined by Robert Galatzer-Levy and Stephanie Schechter in leading this program, which will include a set of vivid and intricate clinical vignettes.
Don't miss the Sunday morning panel chaired by David Terman, featuring narcissism from the point of view of the historian. The presenters will place the development of an increased interest in narcissism as a clinical issue, within psychoanalysis as a discipline as well as in a large history of ideas and events. Historians Charles Strozier and Elizabeth Lunbeck and psychoanalyst James Anderson will present their work on this subject, followed by audience discussion.
In closing, I urge everyone to come to Chicago this June both for intellectual stimulation and fun.