See a Different Chicago: New Attractions and Upgrades to Classic Sites
Gordon Mayer
If you haven't been to Chicago recently, get ready to see a lot of changes. Classic attractions and familiar neighborhoods have received a makeover. Plus, new sights and attractions give repeat and first-time visitors plenty to do during early summer, our best season of the year.
Classics with a Facelift
Navy Pier is a good example of a classic with a facelift. Originally designed for shipping and recreational purposes, the Pier is a good walk or short ride from the Loop. Even though it's long been a magnet for tourists, the city recently invested millions in an upgrade, making the spot even more popular—a record 9.3 million people visited in 2016. New features include a taller Ferris wheel with enclosed cars, hearkening back to the creation of these rides at Chicago's 1892 World's Fair.
Chicago Shakespeare Theatre has had its home base at the Pier since 1999. Last year the group got a multimillion dollar new theater, The Yard, whose design received critical acclaim. Over the weekend of the APsaA conference, Chicago Shakespeare will perform Macbeth in a new production created by Aaron Posner and Teller (of Penn & Teller). Details at navypier.org and chicagoshakes.com.
New Destination
Near the Pier is the Riverwalk, a new destination since 2015. The Riverwalk stretches along the downtown side of the Chicago River from the lakefront to just past Wolf Point, where the north and south branches of the Chicago River meet. The Point is believed to be the site of a trading post owned by the area's first white settler. Today it's the epicenter of downtown construction and a great place to take in the best of old and new Chicago.
From the Riverwalk, you can watch—or take—yellow boat taxis that offer rides to Chinatown about two miles south and Goose Island the same distance north. Other options include architecture cruises, powerboats, and little electric-powered boats that are available to rent. Kayak tours are available, too, as are bicycles and Segway machines. The Riverwalk is also home to a rotating selection of bars and restaurants, and the city's Vietnam Veterans Memorial and McCormick Bridgehouse Museum. Details at chicagoriverwalk.us.

Map courtesy Choose Chicago.
Old Neighborhood, New Attractions
The University of Chicago has been upgrading its campus substantially the past few years, and the impending arrival of the Obama Presidential Center on the southeast end of the community will bring another jolt.
If you've spent any time at the University of Chicago, you may recall bookstores used to be pretty much the highlight of a visit to its surrounding community of Hyde Park. The bookstores are still there. At least Powell's, the Seminary Co-op, 57th Street Books and the university bookstore are; O'Gara and Wilson moved to Indiana (but was replaced by a wine shop, so it could have been worse). Joining these stalwarts are new attractions.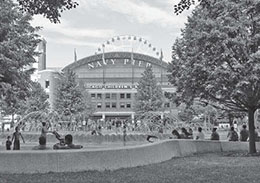 Creative Commons photo by Rchdj10 via Flickr.
Recent years have brought a new Jeanne Gang-designed dormitory that hosts several public facilities, the new Logan Center arts building on campus, and Revival Theater for improv comedy. The latter sits about 50 feet from where Mike Nichols, Elaine May and company invented the art in the 1950s. Nearly a dozen new restaurants dot the neighborhood, too.
A performance calendar for Logan Center (and other events in and around the neighborhood) is at arts.uchicago.edu; Revival Theater information at the-revival.com, and businesses and restaurant listings at downtownhydeparkchicago.com.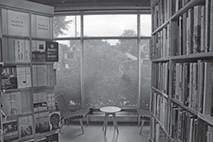 Photo by Pierre Gratia courtesy Seminary Co-op.
Similar change is occurring citywide—even at venerable Wrigley Field, where victorious new owners have demolished adjacent buildings to make way for a new hotel and other baseball-related development. Sadly, the Cubs will be out of town over the June 22-24 APsaA conference dates, but a White Sox four-game series vs. Oakland starts Thursday, June 21.
It all makes Chicago a great place to discover, or rediscover—one reason Mark Twain's description from 1893, in Life on the Mississippi, is still a favorite quote about the city: "She is always a novelty; for she is never the Chicago you saw when you passed through the last time."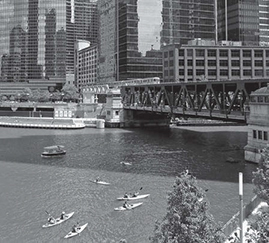 Creative Commons photo by John W. Iwanski via Flickr.