Introduction
Michael Slevin
Michael Slevin, M.A., M.S.W., a former TAP editor, graduated as academic associate from the Baltimore Washington Institute for Psychoanalysis, where he completed the Adult Psychotherapy Training Program. He works at Sinai Hospital of Baltimore and has a private practice.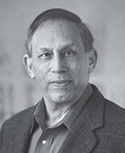 In January 2015, terrorists attacked the staff of Charlie Hebdo, a satirical Paris magazine, killing 12. The offense: a caricature of the Prophet Mohammad, portrayal of whose image is forbidden by Islam. An intense debate ensued over the limits, if any, to free speech. Given the importance of speech in psychoanalysis, I wondered what contribution psychoanalysis might make to this public debate.
I approached three distinguished people to consider the question. They became our contributors: Robert Goldstein, professor at the UCLA law school; Jill Gentile, an analyst with a book in press on democracy, psychoanalysis and free association; and William Winslade, professor of law, professor of philosophy and a licensed research psychoanalyst.
Robert Goldstein, after analyzing eight Supreme Court decisions over the past hundred years on honoring or desecrating the American flag, uses Winnicott's concept of the transitional object and Bion's group dynamics theory to consider the symbolic and unifying needs of our national community.
Jill Gentile, writes with a long arc of time, looking at the growth of political democracy, from its origins in ancient Greece to its current ubiquity, as a reality or as a fended off demand. Considering the centrality of speech to psychoanalysis, she wonders whether the discoveries of Freud are in fact essential to the future of democracy.
William Winslade with succinct clarity, contrasts unfettered free speech in the political and media marketplace with the truth demands—each different—placed on speech by each of his three disciplines: law, philosophy and psychoanalysis. He raises a serious question about what a democracy needs to function best.
Since the time the authors began work on their articles, both campus politics and the presidential election contest have raised important questions about free speech, aggression, loosely defined political correctness and safe spaces. While free speech is always in the air in our democracy, some years it is more central than others. This year is one of those times. I hope these three articles will stir in our reader's questions and understandings about how psychoanalysis can contribute to the needs of our citizens and the needs of our students, the future of our democratic institutions and the future of our universities.