A Beautiful Time to Visit
105th Annual Meeting
June 17–19, 2016
Norman Kohn
Norman Kohn, M.D., is a faculty member of the Chicago Institute for Psychoanalysis and the Department of Psychiatry and Behavioral Neuroscience at The University of Chicago. He is chair of the Local Arrangements Committee for the June meeting in Chicago.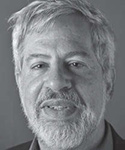 Our June 2016 meeting, at the Palmer House Hilton, will put us once again in the heart of downtown Chicago. The city offers many outstanding examples of planned growth. Much of Chicago was rebuilt after being destroyed by fire in 1871. The original Palmer House Hotel, which had opened just 13 days earlier, burned to the ground and was rebuilt.
VISIONARY PLANNING
Spring is a wonderful season in Chicago. Many of the city's greatest attractions are a short walk away from the hotel and include reminders, should we need them, of how careful planning can preserve a legacy for future generations. Along the lake shore lies Burnham Park, named for planner and architect Daniel Burnham. A strategic planner, he was known for saying, "Make no little plans. They have no magic to stir men's blood."
Visionary planners protected the parkland, now with running and biking paths which for 26 miles line the city's Lake Michigan shore. Prime beaches, with swimming and sports (beach volleyball, anyone?) are close by. Large plans with visible results include the project that raised the street level one story, 150 years ago, to solve the problem of flooding and poor drainage. In 1900 the flow of the Chicago River was reversed, to help handle the sanitary challenges of a growing city. Millennium Park, completed in 2004, includes newly created parkland above train tracks and parking lots.
Nearby scenic highlights include the Lurie Gardens, the Gehry-designed Pritzker Pavilion within Millennium Park, and Anish Kapoor's nearby Cloud Gate ("The Bean"), which has become a symbol of the city. Navy Pier will be celebrating its centennial, and its new Ferris Wheel may be ready. (In fact, George Washington Gale Ferris, Jr.'s original Ferris Wheel was built in Chicago in 1893.) Navy Pier fireworks explode at 9:30 p.m., Wednesdays and Saturdays. For a more active park excursion, check out weekend morning exercise classes including yoga and Pilates at the Pritzker Pavilion, or discover the new Maggie Daley Park (adjacent to Millennium Park), which features climbing walls and tennis courts against the backdrop of Lake Michigan.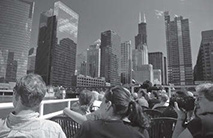 Photo: ©City of Chicago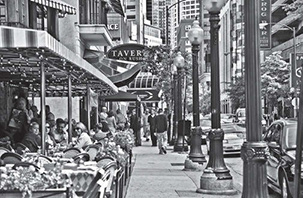 Photo: ©City of Chicago
UNLIMITED DINING
Restaurants and cuisines are too numerous to list here, but Chicago is a legendary food destination—anticipate tempting dinearounds. Do not neglect the local specialties, not just the well-known Chicago-style hot dogs and deep dish pizza, but also great ethnic food in the neighborhoods and world renowned dining spots. For food and music, the Taste of Randolph festival will overlap the dates of our meeting and takes place in Chicago's West Loop neighborhood, which has emerged as the city's newest culinary haven. For lunch, dinner or a drink, consider seasonal restaurants and bars that appear along the Chicago Riverwalk and offer a break from the bustle of downtown.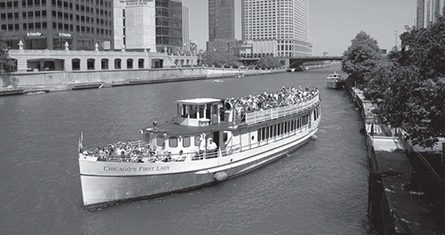 Photo: ©City of Chicago

ARCHITECTURAL TOURS BY LAND OR SEA
Also along the Chicago Riverwalk at the corner of Michigan and Wacker is the point of departure for the Chicago Architecture Foundation River Cruise, which gives a curated, informative look at Chicago architecture from our internal waterway. The Chicago Architecture Foundation also conducts walking tours, and several companies offer tours by kayak. (Bring shorts or bathing suit.)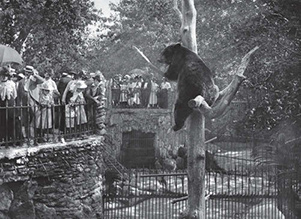 Photo: Detroit Photographic Company
Consider renting a Divvy bike, an inexpensive way to get around the city. It is a great way to explore Chicago's neighborhoods. Chicago's great urban universities sit in distinct urban and suburban neighborhoods: the University of Chicago in Hyde Park, DePaul University in Lincoln Park (also site of a great free urban zoo), Loyola University just off North Michigan Avenue, and Northwestern University in nearby Evanston.
SPORTS, THEATER, MUSIC, ART AND SHOPPING
For sports fans there's Wrigley Field, home of the Chicago Cubs. They will be playing the Pittsburgh Pirates during our meeting. The Chicago White Sox will be home that week at U.S. Cellular Field, where they will play the Detroit Tigers and the Toronto Blue Jays.
Chicago has wonderful theater. Walking distance away, the Cadillac Palace Theater will have a brand-new production of The Sound of Music. Also close by the hotel, the Goodman Theatre will have a new drama, Soups, Stews, and Casseroles: 1976. Farther afield are The Second City in Chicago's Old Town neighborhood and, much farther, Writers Theatre (Death of a Streetcar Named Virginia Woolf: A Parody
Musical offerings include a musical-comedy cabaret show, See Jane Sing, featuring Second City alumna Jane Lynch. The Chicago Symphony will feature a Beethoven-Brahms program. The Grant Park Music Festival, in the Pritzker Pavilion at Millennium Park, will have just started. Jazz and blues clubs abound, some within walking distance.
Chicago has great, accessible museums. The Art Institute is two blocks from our meeting site. The Field Museum will have a world-class exhibit, China's First Emperor and His Terracotta Warriors. The Museum of Contemporary Art, the Shedd Aquarium and the Adler Planetarium are also nearby. Only a little bit farther is the Chicago Children's Museum.
If you are looking for things to take home with you, Chicago's Magnificent Mile and State Street shopping districts are nearby and offer a global collection of stores. Beyond downtown but easily reachable, the city's neighborhoods offer a wide range of smaller shops and boutiques, as well as farmers' markets. For a great taste of local neighborhood shopping and dining, check out Old Town, Lincoln Park, Bucktown/Wicker Park or Andersonville.
No matter what, our Chicago meeting will be a great opportunity to explore an amazing city while reconnecting with colleagues. Plan to come a day or two early or stay after the meeting to really get to know Chicago at one of the most beautiful times of the year.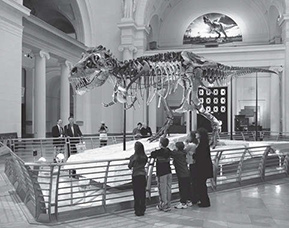 Photo: ©City of Chicago