Challenges in Training
Phoebe A. Cirio
Phoebe A. Cirio, M.S.W., LCSW, is chair of the Challenges in Training COPE Study Group and president of the Candidates' Council.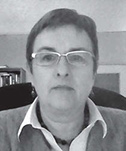 This COPE Study Group on Challenges in Training, the only one whose members are not certified, was established about five years ago by Hilli Dagony-Clark during her tenure as president of the Candidates' Council. Composed entirely of candidate members, and those new graduates who began with the study group as candidates, the group has begun to read the psychoanalytic literature on candidacy.
…the goal…is for us to acquire the personal depth to be able to apprehend that which is different from us.
Reading this literature has informed our discussions about some of the common experiences of candidacy and deepened our understanding of the reasons for some of those experiences. In our recent meeting in June 2015 in San Francisco, we discussed several articles about learning psychoanalysis. One article was on learning in a multi-theoretical environment, another looked at the impact of one's status as a candidate on analytic process, and the third examined the transferential and countertransferential aspects of the analyst being an apprentice. In our discussions about these articles we looked at our own experiences as candidates in classes, supervision and in our analyses.
One of the consistent themes in our discussions is the development of one's identity as a psychoanalyst. In a paper we discussed there was a quote from Erik Erikson's 1968 book Identity, Youth and Crisis, "The psychoanalyst must be aware of the historical determinants of what made him what he is before he can hope to perfect the human gift: the ability to understand that which is different from him." As candidates and new graduates in 2015, we have a particular challenge, to begin to identify and define ourselves as psychoanalysts in the face of the challenges of getting enough control cases, and especially control cases that have a neurotic structure, which can provide us with a good training experience. Doesn't one need analysands to think of oneself as a psychoanalyst? But I like the point Erikson makes above; the goal of our studies, in all the forms they take—personal analysis, supervision of cases, classwork—is for us to acquire the personal depth to be able to apprehend that which is different from us. And in the current world, where we live with tremendous intolerance for difference and variance, a psychoanalytic education that fulfills the understated goal of being able to understand that which is different from us is a worthwhile undertaking, regardless of the challenges to obtaining that education.
Our study group plans to survey APsaA candidates about their thoughts and attitudes about their analytic identity and their training, but in the process of developing our survey we are devoting much of our time to discussion and reading so as to deepen our own understanding of these questions. Our group's goal is to produce a paper that reflects our understanding of the experience of the challenges, and gratifications, of contemporary psychoanalytic training.