Photos by Wylie Tene
Award Winners from the 2016 National Meeting
Candidates' Council Psychoanalytic Paper Prize
Deborah Weisinger, Psy.D., "Developing a Psychoanalytic Identity in the Presence of a Psychotherapeutic Identity"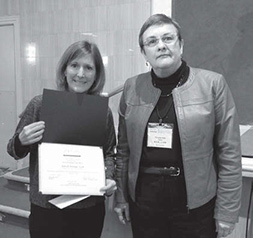 Semi-finalist: Suzanne Klein, Ph.D., "Healing Psychic Trauma through the Psychoanalytic Relationship"
CORST Essay Prize in Psychoanalysis and Culture
Gavriel Reisner, Ph.D., for his paper "On Ghosted and Ancestral Selves in Hamlet: Loewald's 'Present Life' and Winnicott's 'Potential Space' in Shakespeare's Play"
APsaA Schools Committee Anna Freud Educational Achievement Award
Gilbert W. Kliman, M.D., Medical Director of The Children's Psychological Health Center of San Francisco
Award for Excellence in Journalism
Gabrielle Glaser, The Atlantic, for "The False Prophecy of Alcoholics Anonymous," which appeared in the April 2015 issue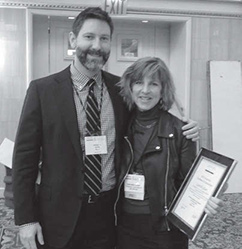 Honorary Membership
Daniel Benveniste, Ph.D.
Ilga Svechs, Ph.D.
Helen Meyers Traveling Psychoanalytic Scholar Award
Jennifer Stuart, Ph.D.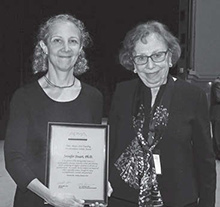 Poster Session Award
Serge Lecours, Ph.D., Frédérick L. Philippe, Ph.D., Marie-Éve Boucher, Ph.D. cand., Lola Ahoundoval, Ph.D. cand., and Catherine Allard-Chapais, Ph.D. cand. For their poster "Negative self-evaluating emotions as mediator in the relationship between childhood emotional trauma and alexithymia in adulthood"
Edith Sabshin Teaching Awards
John Barnhill, M.D.—Association for Psychoanalytic Medicine and the Columbia University Center for Psychoanalytic Training & Research
Martin A. Ceaser, M.D.—Baltimore Washington Center for Psychotherapy & Psychoanalysis
Andrew Chirchirillo, Ph.D.—St. Louis Psychoanalytic Institute
Miriam Field, MSS, LCSW—Psychoanalytic Center of Philadelphia
Naomi Janowitz, Ph.D.—San Francisco Center for Psychoanalysis
Courage to Dream Book Prize
Kate Schechter, Ph.D., for her book Illusions of a Future: Psychoanalysis and the Biopolitics of Desire (Duke University Press, 2014)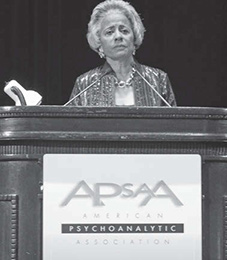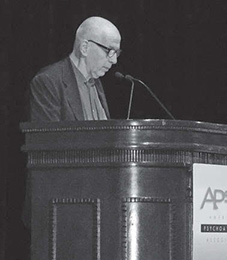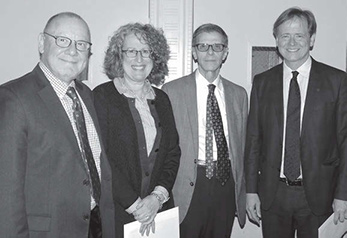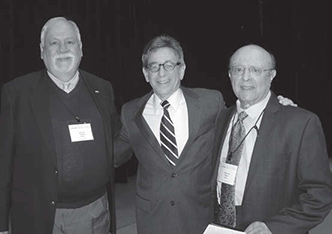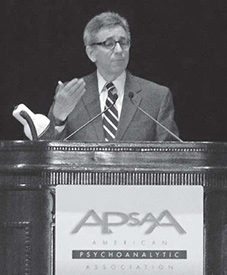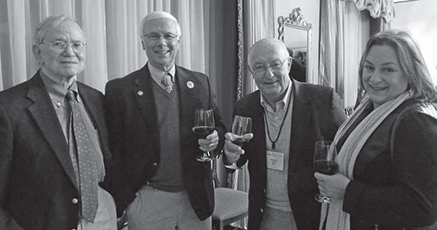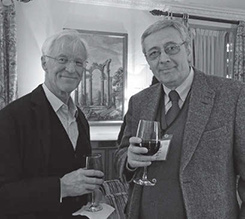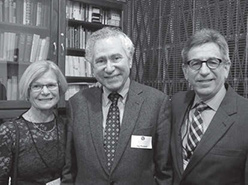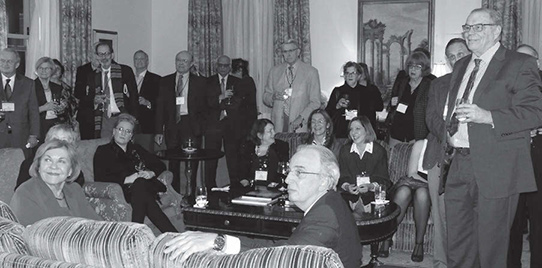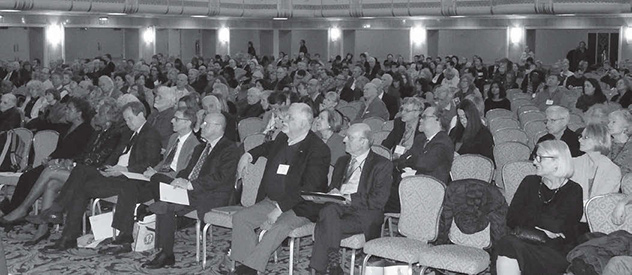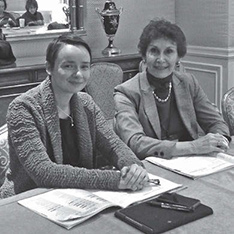 Psychoanalysis Is a Human Tradition Passed On from One Generation to the Next
Daniel Benveniste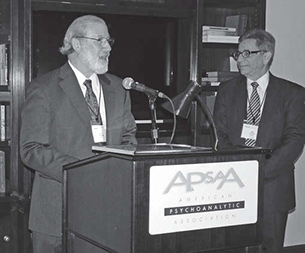 Acceptance speech upon receiving an Honorary Membership
I am delighted this evening to accept this honorary membership in the American Psychoanalytic Association. It is, indeed, an honor and a great pleasure, as well.
When it comes to developing a professional identity, training is essential. But two other ways of further developing that professional identity are through professional affiliation, with institutes and associations, and/or through lineage. Being an outsider all my life has naturally made me incline less toward belonging and more toward lineage. As I like to put it, psychoanalysis is a human tradition passed on from one generation to the next and tonight I find myself thinking of my mentor, Nathan Adler, a psychoanalyst in San Francisco who studied outside the formal institute under Siegfried Bernfeld. And Bernfeld, of course, was an analyst in Vienna who also studied outside the formal institute, under Sigmund Freud.
It was during my five years of clinical supervision with Adler that I became interested in the early history of psychoanalysis in San Francisco. Hearing his stories of Siegfried and Suzanne Bernfeld and the other emigre analysts arriving in San Francisco in the 1930s piqued my curiosity and the next thing I knew I was under the spell of a powerful fascination for the topic. I conducted 80 plus interviews, wrote a number of articles on the topic and analyzed my fascination for the early history of psychoanalysis in San Francisco. What I discovered is that when my mother was pregnant with me, my father's father, Nissim Benveniste, died. He was 61 years old—my age today—and he had been sick for ten years. He was a good, kind and generous man, beloved by all and his early death left everyone in the family grieving in silence. So I came into the world surrounded not only by the warmth of my family but also in the shadow of this rather significant absent other about whom no one could utter a word. I consequently became fascinated with everything that happened long ago. Imagine my surprise then, when I later discovered my grandfather was born in 1891 and Bernfeld in 1892 and they both died in 1953.
This interest in hearing about what happened long ago was further stoked when W. Ernest Freud, the fort-da baby and the only Freud grandson to become a psychoanalyst, asked me to write his biography. There I was in Heidelberg emotionally motivated by a curiosity about my Grandpa Nissim, while listening to W. Ernest Freud telling me about his Grandpa Sigmund, his Grosspapa.
As Ernest spoke of his grandfather teaching his Aunt Anna about psychoanalysis and his Aunt Anna teaching him about psychoanalysis, I thought of my own lineage from Freud to Bernfeld to Nathan Adler to me. And so it is, that in these ways and many others psychoanalysis is passed on from one generation to the next.
I think it is probably very possible to become an outstanding dentist without knowing the history of dentistry but when it comes to psychoanalysis and psychoanalytic psychotherapy, one's theory and technique will always broaden and deepen with a greater understanding of the history of psychoanalysis.
The history of psychoanalysis is full of useful lessons for contemporary challenges. I have, for example, a list of 13 major contributors to psychoanalysis who all met Freud, began their training or even finished their training before the age of 29—that's not 49 or 59—that's 29! Many people read Freud when they are teenagers or in their early 20s but when no one is there to discuss their concerns, their passions may naturally cool and they may move on to other fields. I think it will serve psychoanalysis if institutes and associations can find ways to invite young people, teenagers and those in their early 20s, to join in the psychoanalytic dialogue and let these young spirits infuse psychoanalysis with their natural curiosity and vibrant creativity.
Another useful lesson from the history of psychoanalysis is the fact that many early psychoanalysts such as Freud, Adler, Deutsch, Fromm, Menninger, Erikson and others all wrote for the public. These days most analysts only write for other analysts, while the public has no other source of information other than the Freud bashers who introduce their misconceptions and denigrations of Freud and psychoanalysis to one generation after another.
If we can write for the public and draw younger people into the field, we will strengthen our discipline and be in a better position to pass the torch of psychoanalysis on to the next generation.
In conclusion, I would like to thank Arnold Richards for recognizing and championing my work; and thank the American Psychoanalytic Association for this honorary membership. It all means a great deal to me and just goes to show that even outsiders like me can find pleasure in belonging. Thank you.
Alfred Adler met and began work with Freud at 37
Sandor Ferenczi met and began work with Freud at 35
Oskar Pfister met and began work with Freud at 35
Edward Hitchmann met and began work with Freud at 34
Helene Deutsch met and began work with Freud at 34
Paul Federn met and began work with Freud at 33
Carl Jung met and began work with Freud at 32
Melanie Klein began analysis with Ferenzci at 32
and became a member of the Budapest Society at 37
Edward Glover met and began training at 32
Karl Abraham met and began work with Freud at 30
Franz Alexander was already an assistant at the Berlin Institute by 30
Ernest Jones met and began work with Freud at 29
Hanns Sachs met and began work with Freud at 28
Max Eitingon met and began work with Freud at 26
Erik Erikson met Sigmund Freud and began working with Anna Freud at 26
Karen Horney began her psychoanalytic training at 24
Ernst Kris met Freud and began his training at 24
Sandor Rado was secretary of the Hungarian Psychoanalytic Society when he was 23
Anna Freud began her training when she was 23
and became a training analyst at 29
Siegfried Bernfeld began attending meetings at the Vienna Society when he was 23
Wilhelm Reich became a full member of the Vienna society when he was 23
Theodore Reik met and began work with Freud at 22
Otto Rank met and began work with Freud at 22
Otto Fenichel attended Freud's lectures at 18
and became a member of the Vienna society at 23
A Long Journey
Ilga B. Svechs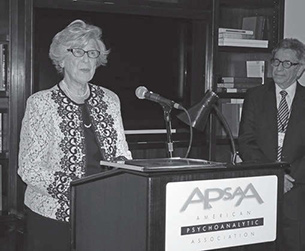 Acceptance speech upon receiving an Honorary Membership
This is a moment to savor! Standing here as an honorary member of the American Psychoanalytic Association.
It has been a long journey for me, with peaks and some valleys.
It was in the early 1960s when the late Elizabeth McKay from Judge Baker Clinic in Boston taught postgraduate students at Smith College School for Social Work. I was fortunate to be one of those students. McKay taught a course entitled "Introduction to Psychoanalytic Theory." I was smitten by the theoretical concepts; they made me reflect on the human mind in all its vicissitudes. Thereafter, during my 29 years in academia at Case Western Reserve University, I continued to have a consistent interest in and awe of psychoanalytic theory, specifically its fluidity relevant to understanding the course of human development and the psychodynamics of functioning in the broader context of the cultures and subcultures that shape us.
Another peak in my life's journey has been the affiliation with the Cleveland Psychoanalytic Center for the past 15 years. I want to thank all its members here with me tonight. A note of special appreciation to Norman Clemens and Richard Lightbody who nominated me for this honorary membership. On a slightly different note, I would like to thank Kay McKenzie for energizing and supporting me to teach a course entitled "Cultural Psychoanalysis" at the Center.
At this time, I would like to introduce three people surrounding me here this evening. Indirectly or directly, they represented earlier phases of my life in the United States whose shores with Lady Liberty I first saw at the age of 13. As a Latvian refugee from post-Nazi, post-WWII Germany, I arrived here with my parents and a much beloved younger brother from a displaced persons camp near Nuremberg, Germany.
We were sponsored to the United States by a dairy owner in Byron, Michigan—a rural village with no stoplights, just a few stop signs. They still do not have any stoplights. I finished the eighth grade there before moving to the next village called Gaines, about four miles down the road, for high school. We constituted a high school graduating class of 14 in 1954. It was in Gaines where I first met an American girl who tirelessly listened to my broken English, to my dreams and with whom I played basketball on the arguably winning Gaines High School girls' basketball team, Class D division. Marylu Gilbert Fitzpatrick and I have been friends for well over six decades. So I am very delighted that Marylu's son, Shane Fitzpatrick, could be here at this event.
From Gaines it was on to Grand Rapids, where I attended and graduated from Calvin College. I also became somewhat active in my small ethnic community of Latvians in the area. Dana Mahar, who hails from Washington, D.C., and Mara Urshel, a long-time New Yorker are sisters and good friends from the days of our youth. Somehow tonight, those days seem like not so long ago….
Thank you all for being here with me at this memorable event.
Paul Holinger won this year's contest for the best caption on Victoria Todd's cartoon. This is another watercolor in the series of SigiCartoons painted by Victoria Todd, child analyst and sixth-year candidate in adult analysis at the Cleveland Psychoanalytic Center.