Challenges of ONE APsaA
Mark D. Smaller
Mark D. Smaller, Ph.D., is president of the American Psychoanalytic Association.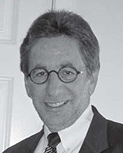 While listening to the two plenaries in New York during our recent January meeting, or while chairing the Joint Meetings of our Executive Council and Board on Professional Standards, I could not help but think that APsaA and psychoanalysis are moving into a new "golden" era of psychoanalysis.
SCIENTIFIC MEETINGS AND EDUCATION
Don Moss, willing to share some of the most private details of his personal and clinical experiences in front of a ballroom of colleagues, received a standing ovation. My friend and colleague Dorothy Holmes received an equal ovation later the same day, eloquently speaking openly and decisively about race and the challenge to move APsaA and psychoanalysis toward genuine diversity. Her presentation as a plenary was itself a huge step in that direction, along with Dionne Powell's powerful introduction of her mentor. Diversity is about inclusion of those individuals, cultures and ideas that have for too long been marginalized in our field. Diversity is about enriching and enlivening psychoanalysis.
After traveling the last three years to international meetings on behalf of APsaA, from Basel for the European Federation for Psychoanalysis (EPF) to Buenos Aires for the Federation of Psychoanalysis in Latin American (FEPAL) to Stockholm for EPF, and to Boston for the International Psychoanalytical Association (IPA) last summer, I have come to the conclusion that our scientific meetings probably highlight the most comprehensive psychoanalytic perspectives in the world. Our Program Committee, ably led by Christine Kieffer, provides us with presentations, plenaries, discussion groups and symposia to challenge any new or veteran "student" of psychoanalysis to learn.
ONE APsaA
ONE APsaA is about presenting an entire range of perspectives within our field. Contrast today with, for example, a time in the 1970s when Heinz Kohut, a former APsaA president, sometimes referred to as "Mr. Psychoanalysis," offered new ideas about narcissism, self experience, and ultimately self psychology. Sadly, he was confronted with severe ridicule, dismissal and temporary but painful professional isolation.
And what about the blatant and subtle sexism and gender bias, racism, classism and arrogance that is a part of our past?
ONE APsaA emerges as we now transform, continuing to address these past and present issues. One APsaA is about welcoming innovation in clinical practice and theory, education, standards, research and advocacy. Our scientific meetings and educational institutions must continue creating an engaging and welcoming atmosphere for all psychoanalytic clinicians, regardless of practice, theory, frequency of sessions, settings and culture. We must continue to attract psychotherapists to our local groups, to our national meetings and to serve on our APsaA committees. Even more integration of all psychoanalytic clinicians is essential for our Association and field to continue to grow and thrive.
GOVERNANCE
ONE APsaA emerged during our meetings in New York that offered even greater support for the Six Point Plan and its implementation. Highlights include local institute choice regarding standards of education beyond IPA guidelines and requirements, a choice regarding certification for training analyst appointment, and accreditation beyond APsaA approval for those institutes seeking accreditation outside of APsaA. The plan also includes an Institute Requirements and Review Committee to review new institutes seeking APsaA approval. A new Department of Psychoanalytic Education and an Executive Council self-assessment process is under way with our consultant, Beth Fletcher of Fletcher Consulting, and the Wagner School of Public Service at New York University.
The Joint Meetings of the Executive Council and the Board on Professional Standards proved constructive. With support of the Executive Council and BOPS, the Executive Committee will continue its efforts with the Six Point Plan Work Groups, creating proposed bylaw amendments to implement the Six Point Plan. Those proposals of appropriate bylaw changes will be discussed during our June meeting in Chicago and presented to the membership for final approval and a vote.
The day after the successful Joint Meetings, we learned the proposed bylaw amendment giving the Executive Council final authority over all matters of the Association, including education, passed by a 69 percent majority, beyond the two-thirds required for a bylaw change. Clearly the membership voiced support for ONE APsaA and a way to move forward, and provided an even stronger mandate toward implementing the Six Point Plan. The Executive Committee will continue meeting weekly and in retreats when needed to hammer out details for implementation of the Six Point Plan, as we have been encouraged to do by the Executive Council and BOPS.
Is it possible we would no longer be the Executive Council, BOPS, TA, non-TA, certified, not certified? Maybe we could be ONE APsaA.
AMERICAN INSTITUTE FOR PSYCHOANALYSIS
ONE APsaA is about the historical and long overdue approval of the American Institute for Psychoanalysis (AIP), formerly the Horney Institute, which opened its doors in 1941. APsaA finally welcomed AIP and its members, and looks forward to their contributions to APsaA and our field. Following last year's approval of the William Alanson White Institute, the approval of AIP is one more significant step in welcoming new institutes, societies and members with fresh ideas regarding treatment, education, research and advocacy.
ADVOCACY
ONE APsaA is about our efforts in Washington, D.C., and must include not only issues of practice and health care, but also social issues about which psychoanalysis can offer unique psychoanalytic perspectives to legislators interested in what we have to offer. Issues of community violence and trauma, as well as sexual, racial and economic inequality are psychoanalytic issues. Research has proved that poverty and racism take a toll on the mental health of our citizens, and we must continue to remind policy makers of that fact while offering psychoanalytic perspectives toward solutions. Advocacy in APsaA is addressing issues outside of psychoanalysis, but also advocating on behalf of a membership with diverse political and social points of view. Our Committee on Government Relations and Insurance (CGRI) in liaison with the Social Issues Department will continue addressing these vital issues that should concern every member.
CONCLUSIONS
As I remarked during the second Joint Meeting, the Executive Committee has never been so naive as to think that changing various APsaA structures will solve all our difficulties and the many challenges facing psychoanalytic practice and education today. During a meeting with the IPA Board, a representative shared her view that prospective psychoanalysts are selected for candidacy with a focus on their personality and skills in working one on one with another person in the context of a very private enterprise: psychoanalysis. Functioning as "organizational" individuals is not necessarily a part of who most of us are and may be our greatest limitation beyond any organizational structures we create.
As Don Moss reminded us, we are "beasts," at heart, even with our executive and self reflective capacities. Dorothy Holmes pointed out our fear of the "other" who is different from us, and how this fear still creates the impulse to exclude, if not hurt.
That being said, psychoanalysis is about freedom—of associations, thoughts, feelings, ambitions and values—in the context of a productive meaningful life in love and work. Psychoanalytic education and clinical work is about the freedom to explore different theories and techniques, tied together by the wish to help another human being in the best and most humane way. I would hope ONE APsaA facilitates that kind of freedom, even with inevitable and inherent difficulties.
As Winston Churchill said to Parliament in 1947: "No one pretends that democracy is perfect or all-wise. Indeed it has been said that democracy is the worst form of government except for all those other forms that have been tried from time to time…."
Making our organization more democratic and in the end, more responsive to the needs of all our members, is yet another, "impossible profession." Yet, as I frequently thought in New York, just consider the possibilities.