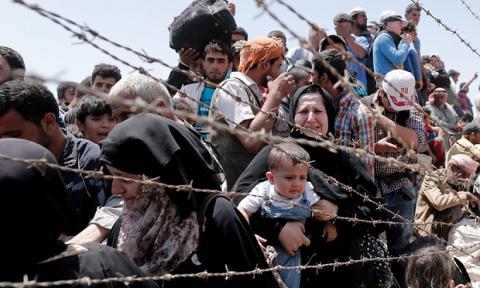 News: APsaA Calls for Empathy Regarding Plight of Refugees
National Psychoanalytic Organization Calls for Empathy Regarding Plight of Refugees
New York, NY – December 08, 2015 – In light of increasing inflammatory rhetoric directed at refugees fleeing Syria and Iraq, the American Psychoanalytic Association (APsaA) has released a new position statement calling for greater understanding and increased compassion.
"As psychoanalysts we are compelled to speak out about the plight of refugees," said Mark Smaller, president of the association. "Refugees face deeply traumatic experiences. Not only the trauma of fleeing their homeland and the fear of not knowing whether they or their loved ones will survive, but now they are also faced with increasing fear, prejudice, hatred and violence from the people and countries where they are seeking safety. And while many will show resilience, we know others will suffer serious psychological distress such as depression, sleep disturbances, chronic anxiety, anger, and post-traumatic stress disorder."
The position statement proposes the following:
Statements and calls for policies that encourage racial and religious profiling create unnecessary fear and suspicion and therefore, must end and be avoided.  This type of rhetoric breeds insecurity, distorts relations between groups, and creates dysfunction within and between U.S. citizens, as well as harms refugees seeking safety and resettlement
Assessments and interventions should be provided early in the refugee resettlement process to determine psychological vulnerabilities and mental health needs of refugees. Special attention should be paid to mental health issues resulting from refugee experiences such as traumatic loss, separation from family, and persecution.
Reasonably efficient procedures for refugee resettlement and integration into new communities will minimize damaging mental health consequences and increases the benefit that will accrue to communities accepting refugees.
Leaders across the political spectrum can temper the incendiary atmosphere created by vitriolic rhetoric by educating the public about the dangers of vilifying and persecuting vulnerable groups. All government officials and community leaders, including religious and business leaders, as well as others with a public profile, can lead by example by encouraging empathy and altruism, and by opposing inhumanity.
"The father of psychoanalysis, Sigmund Freud and his family were refugees who fled Austria in 1938 to escape the Nazis," said Smaller. "Both Sigmund and his daughter Anna had much to say about how political and sociocultural discourse that emphasizes differences between nationalities, races, or religions can cause humans to view others suspiciously and with hostility and decrease our capacity for empathy. Sadly, we have seen time and again what happens when empathy disappears altogether."
You can read the full position statement here along with other position statements released by the association.
About APsaA
The American Psychoanalytic Association is a professional organization of psychoanalysts with approximately 3,300 members. The Association is comprised of psychiatrists, psychologists, social workers, educators, researchers and students who have an interest in psychoanalysis and psychoanalytic therapy.  Visit www.apsa.org for more information.
###
Media Contact:
Wylie Tene
Director of Public Affairs
American Psychoanalytic Association
212-752-0450 ext. 29
https://apsa.org/wp-content/uploads/2022/10/refugee.jpeg
288
480
Actualize
https://apsa.org/wp-content/uploads/2022/08/Layer-80.png
Actualize
2015-12-08 12:43:57
2022-12-29 13:40:12
News: APsaA Calls for Empathy Regarding Plight of Refugees