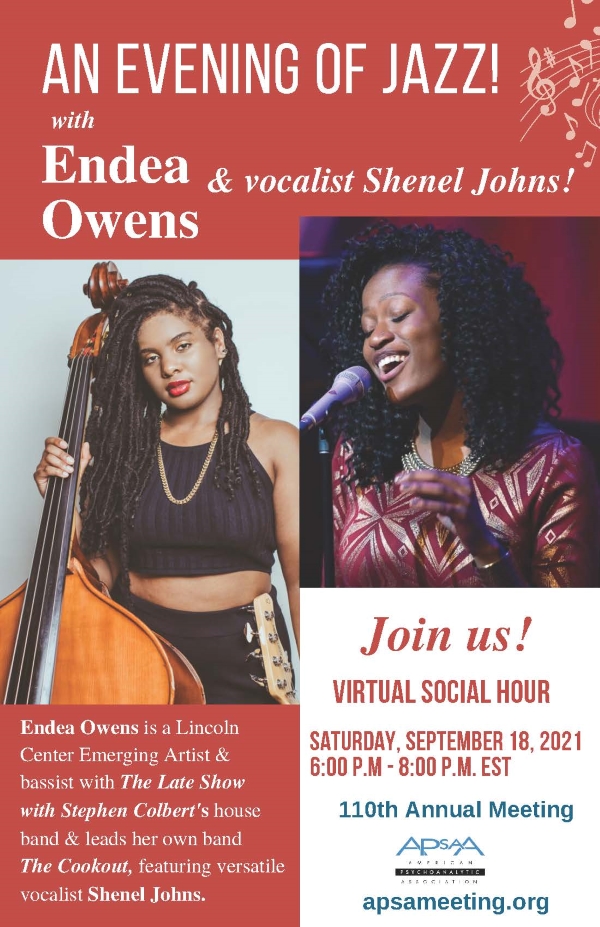 Our featured jazz performers for the 110th Annual Meeting's Virtual Social Hour will be the fabulous Endea Owens and Shenel Johns!
Endea Owens is a Lincoln Center Emerging Artist and her band The Cookout performs at top Jazz venues across New York City and beyond. For our Social Hour, Ms. Owens will be joined by The Cookout's Shenel Jones, a renowned vocalist who has performed with many greats including Wynton Marsalis.
Soon after their appearance at APsaA's Virtual Social Hour, Ms. Owens and Ms. Johns, with the entire The Cookout band will be performing September 25th & 26th at Dizzy's Club at Lincoln Center in New York City. Tickets are available here.
This Virtual Happy Hour jazz performance is available only to registered attendees of the 110th Annual Meeting, so if you haven't yet registered, now's the time!